EDIT MAIN
Student Resources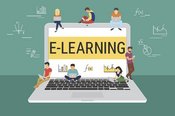 Below please find both directions and a video tutorial on how to log on a non-school computer like a home computer for eLearning days.
*Students please make sure you are signed into your school Google Account on Chrome as well as Canvas. Canvas assignments are likely to leverage Google Apps for Education and therefore you will need to sign into both.
Video Tutorial
Click Here for a video tutorial on how to sign in to Google Chrome and Canvas on a non-school device such as a home computer.
Or
Step by Step Directions
Please note students should sign-in to Canvas/Google Chrome. Google and Canvas work together so it is important to be signed into both. Follow the steps below:
1. Make sure you have Google Chrome Browser installed on your device. It can be downloaded at https://www.google.com/chrome/
2. Log into Chrome with your child's e-mail address and password: Your child has an e-mail and password to sign into their Google account. Their email is their 100number@union.k12.in.us and their password is the same as what they use at school. Both the username and password are without the UTSC at the end.
3. Log into UTSC's Canvas website: https://uniontownship.instructure.com If your child has logged into chrome in step 2 then the Canvas link is available in their union.k12 bookmark drop-down list. Your child will use their 100number and their school password to sign into their Canvas dashboard and find all of their class home pages.
***One way to ensure your child is logging into the correct Canvas website is to make sure the background screen is green. If it is another color you are not accessing the UTSC Canvas website, please click on the website link listed in Step 3. If the screen is another color besides green, you are not at the UTSC Canvas website.