EDIT MAIN
Principal's Corner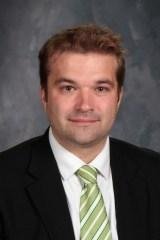 Patrick Fuller
Principal
Welcome to Union Center Elementary!
At UCE, our dynamic staff welcomes the opportunity to work with dedicated parents and community members to improve our school and community one child at a time. Most of all, we look forward to working with our students and continuing the outstanding work and tradition set forth at Union Center Elementary School.
Our goal at UCE is to provide the foundational skills set in academic, social, and emotional growth that prepare students to be successful in a variety of aspects of life. As your principal, it is my goal to provide a safe and fun environment for your child to grow and become the best version of themselves.
At UCE, we believe that parental involvement is paramount to a child's success, and I encourage you to be an active participant in the educational experience at UCE.
Communication is essential to that success, so I encourage you to contact me with any questions you may have throughout the school year. It is an honor to serve as principal at Union Center Elementary School, and I look forward to working with you!
"Every Student...Every Day"